Do you know that cognitive decline is not only a sign of aging and dementia?!
It may also occur due to:
Chronic emotional stress.
Elevated cortisol.
Viral infections affected the brain covid-19.
Gluten intolerance.
Mold.
Hormonal imbalances.
So, it is an urgent need to know about the safest natural component for the prevention and treatment of cognitive decline:
What is the history of methylcobalamin (synapsin) nasal spray)?
Diseases of the brain increase as the proportion of the aging population increases…Neurodegenerative disorders, cognitive decline, mental imbalance, brain tumors, and psychiatric disorders are expected to be more diagnosed by 2050 than before, according to statistics from the UN DESA(United Nations Department of Economic and Social Affairs).
In the therapeutic field, just small and lipophilic molecules can transfer from blood to the brain to do the desired effect of treatment, due to the barrier BBB(blood-brain barrier).
According to this, there are a lot of therapies that can treat brain disorders, but only around 8% are available in the market.
Hence, scientists discovered another modality to target the brain tissues, it's the intranasal route…
Let's agree that the intranasal route was a huge breakthrough in the therapeutic field.
Especially for brain and CNS(central nervous system) disorders.
The intranasal route enables the drug to bypass the main barrier: BBB( blood-brain barrier) and blood Cerebrospinal fluid-brain barrier(BCFB).
Jim LaValle is an internationally recognized clinical pharmacist and nutritionist and functional medicine speaker who invent synapsin.
What are the Advantages of synapsin nasal spray as an intranasal route of drug delivery?
Simple.
Noninvasive
Rational.
Rapid bioavailability.
Rapid onset of action.
Reduction of systemic toxicity (it targets the desired tissue only, and does not affect the other body tissues like the oral route).
What are the components/ingredients of synapsin?
1. Nicotinamide riboside: it is a form of vitamin B3.
It is an important factor to restore NAD+ levels present in youth to avoid the risk of age-related diseases.
A lot of pathways are implicated and may break down or become dysfunctional due to aging, which causes age-related diseases like neurodegenerative disorders and cognitive decline.
NAD+ is a potential target for age-related pathologies.
2. Ginsenoside Rg3: it belongs to the ginsenosides family, extracted from
Panax ginseng.
Ginsenoside improves the memory ability of the elderly. It can delay neuronal senescence and reduce memory impairment in the elderly and has a stable membrane structure and increased protein synthesis.
When ischemia occurs, microglia are activated to produce the dual effect, neurotoxicity and neuroprotection,
The fate of damaged neurons depends on the balance between the two effects.
RG3 supports neuroprotection, therefore deserves healthy microglia activity and healthy neuronal function.
Ginsenoside RG3 has a beneficial effect against fatigue.
Panax ginseng is the most important component in improving erectile dysfunction.
It promotes nitric oxide(NO) release, resulting in an improvement in penile hemodynamics, which improves erectile dysfunction by triggering erections mediated by the relaxation of the smooth muscles of the corpus cavernosum.
Ginsenoside Rg3 has anti-angiogenic properties it plays an important role in the inhibition of proliferation and migration and metastasis of cancer cells.
3. Methylcobalamin it's the main component of synapsin
It is the active form of vitamin B12, which shows significant improvements in neuropathy symptoms and maintaining brain and nervous system functions.
A dose of 500 mcg three times daily showed an improvement in heart rate variability, which means an improvement in autonomic neuropathy.
Methylcobalamin is involved in the treatment of LSS (lumbar spinal stenosis)!
LSS is associated with significant disability and functional limitations. it's a known cause of low back and leg pain.
A deficiency of methylcobalamin due to insufficient intake or insufficient absorption may also induce pernicious anemia.
What is synapsin nasal spray used for?
The main use of synapsin is to control cognitive decline and support neurological health.
Nowadays, many people are under chronic stress which induces brain fog.
Synapsin showed high evidence in the treatment of brain fog.
Ginsenosides bioavailability with the oral route is low. so synapsin nasal spray can
cross the blood-brain barrier increasing the bioavailability of ginsenosides, resulting
in increasing the desired effect on microglia cells, which removes damaged neurons
and fight infections.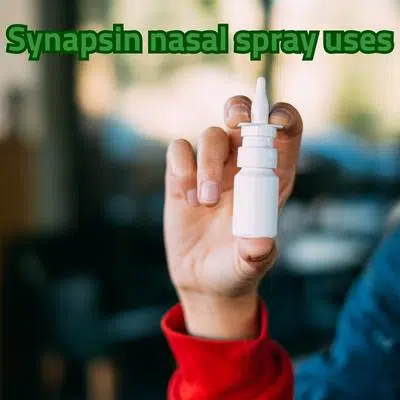 What are cognitive and neurological disorders?
Neurological disorders are disorders of the brain and nervous system including:
Parkinson's disease.
Multiple sclerosis(MS).
Spinal muscular atrophy.
Rett syndrome.
Alzheimer's disease.
Huntington's disease.
Epilepsy.
Triple A syndrome.
According to American static, one in six people suffers from neurological disorders, and prevalence will rise as the population ages.
Neurological disorders affect all human biological functions, including memory, movement, vision, language, and emotion, resulting in significant disability and poor quality of life.
The most prevalent neurological disorders are depression and cognitive difficulties (like poor memory, executive dysfunction, and inattention).
Neurological disorders cost American society around 800 bilion$ (dementia only has been projected to cost over 600 bilion$ by 2030).
By 2050, there is one in every six persons in the world will be over 65 years, unfortunately, expected to suffer from neurological disorders like dementia.
Is synapsin nasal spray safe?
A clinical trial was applied to 130 patients, recruited from 25 neurology centers in Japan to validate the safety and efficacy of ultra-high doses of methylcobalamin.
This trial was conducted from October 17, 2017, to September 30, 2019.
The trial results showed that ultra-high dose methylcobalamin was efficient and safe during the 16-weeks treatment period.
How to use synapsin RG3 nasal spray?
Dosing:
For adults: two sprays per nostril TWO to THREE times daily.
The long-term dose is one to two sprays per nostril TWICE daily
For children: as prescribed, it must be slow and small dose.
Should be applied to a clear nose.
What are the Side effects of synapsin nasal spray?
It may cause mild burning or stinging in the nose
May cause nose discomfort because it is stored refrigerated.
There are no identifiable or serious side effects reported from synapsin. But any drug may cause side effects.so, you should tell your doctor if you noticed any of these symptoms:
Any Signs of an allergic reaction like rash, itching, red swollen blistered, or 

peeling skin.

Shortness of breath.
Dizziness.
Diarrhea.
Upset stomach.
What do you need to tell your doctor/pharmacist BEFORE taking synapsin?
If you are allergic to synapsin or any of its components
If you are allergic to any other drugs, foods, or substances.
If you need to handle mercury.
About all of your drugs (prescribed, OTC, vitamins, natural products).
About any health problem.
What are the Benefits of synapsin RG3 (methylcobalamin)? What does synapsin do?
Besides neurological disorders and cognitive decline, synapsin plays an important role in a lot of other disorders. For example:
1. Diabetes relieves neuropathy symptoms in diabetic patients.
2. DNA synthesis helps to regenerate tetrahydrofolate (THF), an active form of folate.
3. Migraine is investigated as a prophylactic agent for migraine.
4. have a beneficial effect against fatigue (ginsenoside Rg3)
5. Obesity and hyperlipidemia.
6. Cardiovascular diseases.
7. improve general conditions. relevant to the quality of life and athletic performance
8. Hypertension due to reduction of volume of carotid artery plaques.
9. Reduce stress and improve quality of life.
10. helps with sirtuins (SIRT1's) which are regulators of metabolism.
11. ADHD autoimmune disorder.
12. Stroke by lowering total homocysteine.
Is synapsin approved by FDA?
Synapsin is not approved by FDA to directly treat or cure disease, but it showed huge benefits and results all over the related areas of the brain and neurons and many-body defects.
How do you get synapsin nasal spray? where is synapsin found?
Only prescribed by your healthcare provider.
https://www.sciencedirect.com/topics/medicine-and-dentistry/mecobalamin
https://www.sciencedirect.com/science/article/pii/S1526590021001887
https://www.sciencedirect.com/search?qs=Methylcobalamin%20nasal%20spray
https://www.sciencedirect.com/science/article/abs/pii/S0168365
https://www.sciencedirect.com/science/article/abs/pii/S0956566322008661
https://www.mdpi.com/1420-
https://www.sciencedirect.com/science/article/abs/pii/S0163834321001225
https://pubmed.ncbi.nlm.nih.gov/35532908
Drugs.com