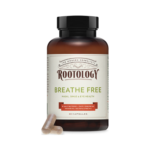 Rootology – Breathe Free is a fast acting natural supplement to support nasal and sinus health, allowing you to breathe easier all year round.
Fast-acting, non-drowsy, year-round, natural nasal & sinus support.
Against irritation caused by pollen, dander, dust, mold, pollution, chemicals, smoke and other irritants.
13 powerful herbal extracts.
For sinuses, congestion, runny nose, sneezing, itchy watery eyes, cough and headache, no matter the cause of discomfort.
6,700 mg of herbal powder.
In Each 2 capsules serving of herbal extract.